ST. PETERSBURG — The Tigers Jerseys took advantage of a scuffling Rays squad to complete a four-game sweep with a 5-1 win Sunday at Tropicana Field.
The Tigers have won six in a row, while the Rays have lost 16 of their last 18 games.
The Tigers trailed, 1-0, when Ian Kinsler doubled off losing pitcher Matt Andriese to start the Tigers' eighth. One out later, Andriese intentionally walked Miguel Cabrera before giving way to Xavier Cedeno, who got Victor Martinez to hit a potential double-play grounder that saw first baseman Logan Morrison throw to second for the first out. Martinez beat the return throw to first with Cedeno covering, and Kinsler scored the tying run on the play.
"That got us going, really," Tigers manager Brad Ausmus said. "It was great heads-up baserunning, aggressive baserunning."
But the Tigers weren't content with one run. Nick Castellanos followed with a single then Justin Upton came through with a two-run double to complete the scoring in the eighth. Kinsler added a two-run homer in off Danny Farquhar in the ninth to push the lead to 5-1. It was the 200th homer of Kinsler's career.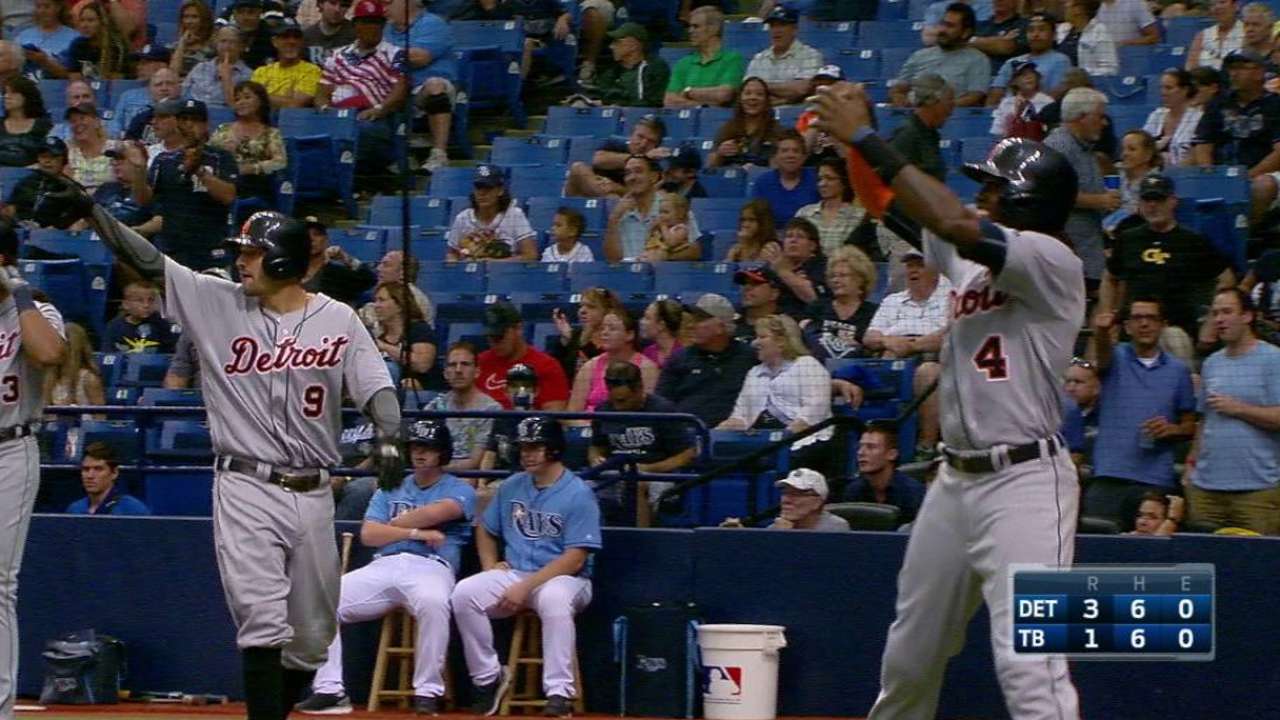 Chris Archer started for the Rays and held the Tigers scoreless on three hits and three walks while striking out 10 in 5 2/3 innings in a no-decision. Mike Pelfrey started for the Tigers and allowed one run in 6 1/3 innings, also in a no-decision.
"Another tough loss," Rays manager Kevin Cash said. "Got away from us there at the end of the ballgame. Can't help but feel really good about what Chris Archer did today. For the way it started, and the way he kicked it in gear and kind of showed us the Archer that we know he's very capable of being. That was an outstanding effort, outstanding performance."
MOMENTS THAT MATTERED
Kinsler hustles a run: Just as Kinsler smelled a double on his drive to left field leading off the eighth inning, he sensed a chance to break for home three batters later. While Martinez beat the throw to first, Kinsler sped up around third. Cedeno, who had to scramble to cover first, wasn't expecting a play at the plate, giving Kinsler a split-second to score the tying run.
"I do that every time I'm on second when there's an opportunity for a double play, even a throw across the infield," Kinsler said. "That's just something I was taught. With two outs, you have an opportunity to score a run right there."
Enigmatic Arch: Archer's first-inning woes this season are well documented. So is the quality of the right-hander's stuff. The two met in the first inning, when the Tigers loaded the bases with no outs via a single through a shifted infield and two walks. Archer responded with three overpowering strikeouts of Martinez, Castellanos and Upton to end the threat without any runs scoring.
Failure to launch: The Rays loaded the bases with one out in the seventh against Pelfrey. A hit away from potentially extending their lead, the Rays came up empty. Winning pitcher Bruce Rondon took over for Pelfrey and struck out Logan Forsythe before Brad Miller flew out to left to end the inning.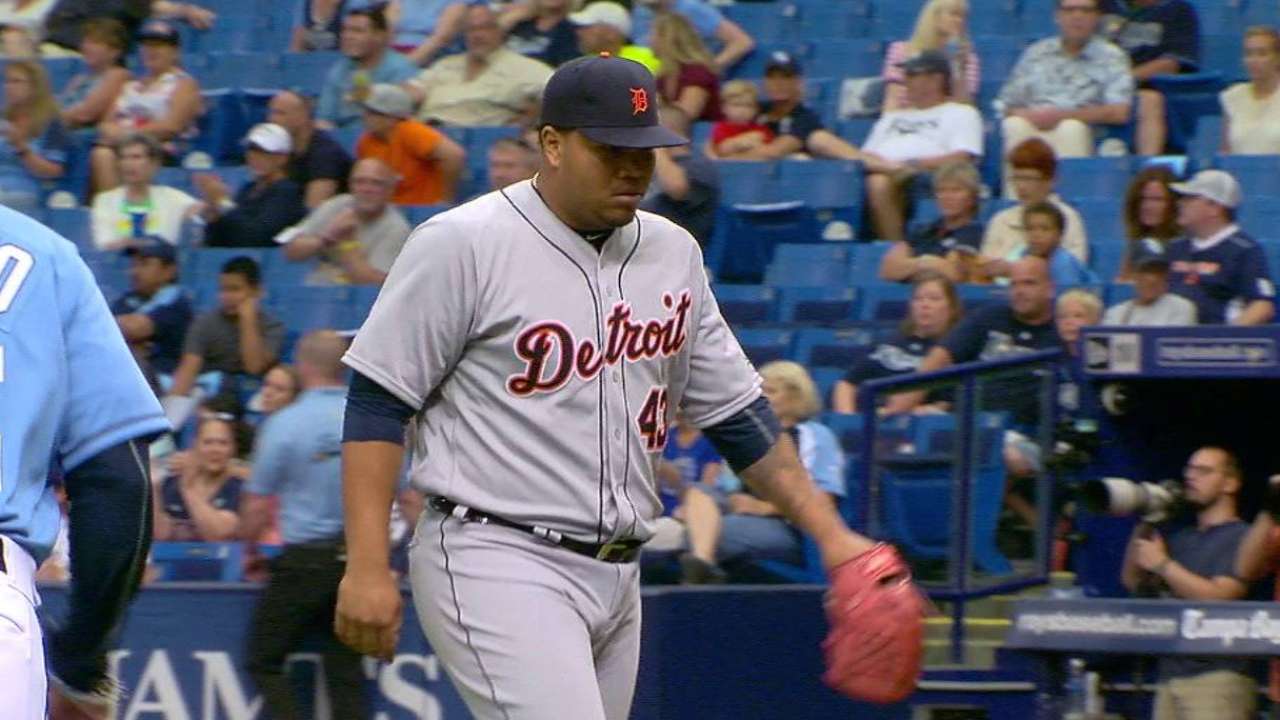 Moya makes shoestring catch: Towering right fielder Steven Moya made the long stretch to the Tropicana Field turf to thwart a Rays threat in the sixth, making a shoestring catch to turn a potential RBI double by Brandon Guyer into an inning-ending double play when he threw out Morrison scrambling back to first. It was Moya's fourth outfield assist in 19 Major League games this season.
"Moya did a nice job of sticking with that ball," Ausmus said. "Really, the big thing is coming up and making the throw and having the wherewithal to know that the guy's rounded second and you still have a chance at him at first, wholesale jerseys."
QUOTABLE
"He definitely plays with an edge, in a good way. He wants to beat the other team. It's almost as if he's a little bit mad at the other team." — Tigers manager Brad Ausmus, on Kinsler.
"You try to be as consistent as possible. … We as coaches, manager, even players, do everything you can to stay consistent, understanding that frustration is going to come. But do everything you can to come in the next day as positive as possible. And when that game starts, all your focus is on making decisions that's going to help the club win." — Cash, on how to approach the funk the Rays have been experiencing lately.
SOUND SMART WITH YOUR FRIENDS
Archer had an odd way of celebrating the one-year anniversary of the last time he hit a batter: He hit Castellanos in the sixth. Prior to that, Archer had not hit a batter since July 3, 2015, when he hit Didi Gregorius of the Yankees.
Kinsler became the third active Major Leaguer — and the 40th overall — with 200 home runs, 1,000 runs scored, 1,600 hits and 200 stolen bases. Active players on the list include Carlos Beltran and Alex Rodriguez.
WHAT'S NEXT
Tigers: Detroit will try to break its season-long 0-9 skid against Cleveland on Monday with a 7:05 p.m. ET game at Progressive Field. Daniel Norris gets the start for the Tigers opposite the American League Pitcher of the Month for June, Danny Salazar.
Rays: Matt Moore starts the first game of a four-game series against the Angels at Tropicana Field in a 1:10 p.m. ET holiday matinee on Monday. Moore is coming off his best outing of the season, in which he held the Red Sox to no runs on three hits in seven innings. The Rays swept a three-game series against the Angels in Anaheim in their only meeting this season.